"So we beat on, boats against the current, borne back ceaselessly into the past."

--F. Scott Fitzgerald

Even if my life depended on it, I couldn't even guess whether General Motors will actually buy Chrysler. That's the scenario many in the general business media have floated as a solution to the awesome ills besetting both automotive giants in today's hard times.

Grasping the kind of high-wire financial acrobatics that would entail is well beyond my ken but I am surely intrigued by what may pan out. The thing is, believe it or not my friends-- and you are my friends!-- while I may own what some would regard as a "blue" voting record, as a fully red-blooded American I can admit that I'd vastly prefer Chrysler to remain in the hands of a U.S.-based owner this time around...

Yes, we live in a global world and I am a proud citizen of that reality, too, but there is nothing wrong in my book with taking pride in at least a few consumer brand names that bespeak one's native land. And I don't see how one can get any more American than the namesake companies of Walter P. Chrysler and the Dodge Brothers-- not to mention that little old red-white-and-blue icon known so eloquently as Jeep.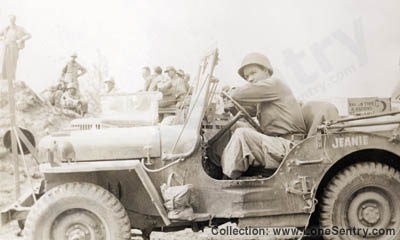 WWII's "GI cartoonist" Bill Mauldin in his Jeep, Jeanie, named for his wife, near the Po River in Italy, circa 1944

So, for me anyway, who has no stake in the automotive game other than hoping that we as a nation will do what we can (yes, yes, within limits) to keep as many of these big manufacturers going as possible for the sake both of American workers and national security (Side thought: I've long wondered what on earth we will do if an old-fashioned "total" war ever broke out again and we had to build trucks, tanks, planes and ships etc. etc. rapidly on a grand scale and with guaranteed quality if there are no factories left here? ), what is most fascinating is what nameplates will be left if the big merger occurs.

Yes, this is something of a parlor game. But what the hell. Maybe we all need at least a little break from worrying about the economy and dissecting the presidential election polls. At least I do!

Anyway, I bet if GM takes over Chrysler, the Chrysler marque will disappear as will the Chrysler car line and the Dodge car line except for their world-class minivan. The Dodge nameplate will be retained as of course-- unquestionably so!-- will the almighty Jeep badge. In my scenario, Dodge and Jeep dealers will offer all the Jeep models they can peddle and they will offer Dodge minivans and the full existing Dodge truck line, including the Ram pickup and medium-duties and the Sprinter-- at least for as long as Daimler will let them keep selling that hot number.

What's more, unless GM can sell its medium-duty GMC/Chevy line to Navistar or Isuzu-- still the two most likely buyers-- it will roll the most lucrative of those models into the Dodge line and reserve the Jimmy and Chevy truck badges for the pickups and vans that remain such major sellers. And the General might go so far as to drop the GMC brand altogetherr and just sell Dodge and Chevy trucks.

As for the car side of the General's ranks, something will have to give and my first bet is the Pontiac will be the next marque to get axed. Some might think the fusty Buick brand-- long seen as "the doctor's car" here --would get ditched first, but Buick is a highly respected brand overseas especially in Asia so I think GM would want to keep it going for that reason alone. Despite its racier image, Pontiac is not distinct enough from Chevrolet to survive any serious downsizing. It would help if it had its own Corvette or pickup truck. Personally, though, I'd rather see the goofy Saturn brand get zapped and Pontiac get all its zingy new European-based models.

That's just my take on what may be. It comes from a guy who never thought he'd see the day Oldsmobile and Plymouth-- not to mention AMC!--would go the way of Nash, Packard and Studebaker among so many other lost marques of America's golden automotive age that truth be told peaked in the late 20th century.

But we motor on. Not only because we have to, but because we love to!

Just one Chrysler worth remembering!