In World War II slang (which for my money is among the most colorful to have had a lasting impact on the good old flexible English language), a "milk run" was a bombing mission flown in the skies of Europe that was routine and went well--that is no casualties were incurred, at least not by the U.S Army Air Forces aircrew.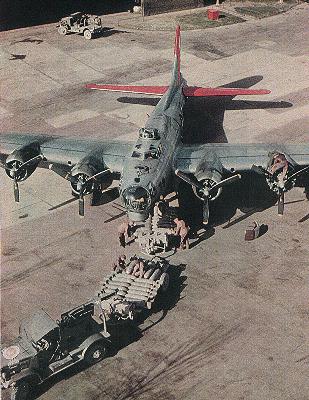 A B17 bomber being loaded for what we hope was a real milk run,


somewhere in England circa 1943



In civilian parlance, "milk run" of course came to mean any venture that's both easy to pull off and sure to deliver succesful results. When I read in The New York Times today that a "neighborhood" grocery store concept that FleetOwner happened to cover tangentally earlier this year has apparently caught fire among the big grocery chains, I couldn't help but think this development should foster quite a few more milk runs by trucks... or will it?

The gist of the Times piece is that grocery retailers that have built many of the mega-supermarkets that are common now even in smaller towns and 'burbs are now also starting to roll out smaller, more focused neighborhoodish stories in response to the growth in chains running smaller-scaled stores such as everyone's favorite quirky retailer, Trader Joe's, and the more standard-issue but spanking-new one one I wrote about, the Fresh & Easy Neighborhood Market operation, launched in the U.S. by Tesco, a giant retailer based in Great Britain.

A typical Fresh & Easy Neighborhood Market store,


somewhere in the Southwest circa 2008



After reading about this food fight, I couldn't help but wonder if this new avenue for retailing groceries will lead to an increase in the number of trucks serving the grocery distribution arena or will it result in more but smaller trucks plying these routes, especially given that nothing sticks out in a "neighborhood" setting quite like a tractor-trailer.

Then, maybe because I am working on an article for our October print issue on how to use IT to reduce a fleet's carbon footprint, I started to wonder whether running more trucks-- even if they are smaller-- could even hope to pass muster with the Green Forces that are now becoming so prevalent in the U.S. marketplace? In fact, the Fresh & Easy piece I penned detailed their effort to put a green trailer into service in their California distribution fleet.

Final (for now) thought on this: Maybe the more-but-smaller trucks approach will win out for these retailers. That is, if they choose to run delivery trucks powered by hybrid drives or other environmentally friendly powertrain solutions.

Time will tell about all that, but as a consumer I will admit I look forward right now to having a few more options beyond walking miles of aisles whenever all I need to do is make a milk run!