Lead me, follow me, or get out of my way.

- Gen. George S. Patton Jr., U.S. Army (1885-1945)

While in recent months everything from speculators to refinery maintenance to the developing world has been blamed for the rapid run-up in fuel prices, it now seems the real issue we should all be losing sleep over-- especially ALL branches of our federal government-- is whether the world just might run out of oil much sooner than later.

That's the message I get from some seriously sobering reports in major newspapers this morning. For example, a report by Neil King Jr. and Peter Fristch in The Wall Street Journal reveals that "The world's premier energy monitor is preparing a sharp downward revision of its oil-supply forecast, a shift that reflects deepening pessimism over whether oil companies can keep abreast of booming demand."

The reporters explain that the Paris-based International Energy Agency (IEA) is attempting for the first time to gauge the condition of the world's top 400 oil fields. The findings won't come out until November..."but the bottom line is already clear: Future crude supplies could be far tighter than previously thought. "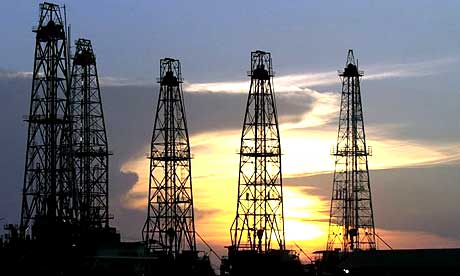 Oil field sunset-- not a pretty picture

The upshot, write King and Fritsch, is that "A pessimistic supply outlook from the IEA could further rattle an oil market that already has seen crude prices rocket over $130 a barrel, double what they were a year ago."

I know, I know, just what we in America, land of cockeyed optimists, don't need-- more pessimism.

On the other hand, in my book anyway, unhappy news based on actual facts is not cause for pessimism.

It's cause for action. Just what action is the real question.

That must be answered for all of us by all of those we've elected to wield the levers of power in Washington.

And, yes, I know they're politicians and not miracle workers.

But I am convinced they can do much more than they have and might actually do something more than they have if enough voters applied enough pressure.

And I argue, as always, that the leadership needed to make something happen should start at the top of the Executive Branch-- in the Oval Office where the sign used to say "The buck stops here."

Where's "Give-'em-hell" Harry Truman now that we need him again?